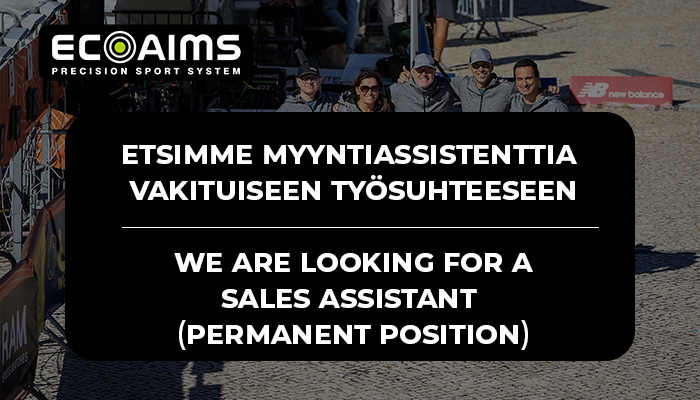 We are looking for a Sales assistant for a permanent position with us at Ecoaims Oy.
Ecoaims Oy currently employs 17 people and is part of a solid, family-owned group of about 40 professionals. Our brand is called Ecoaims. Our premises are located in Ylämylly, right next to Joensuu with good transport links.
The company has evolved into a leading player in the field of optical shooting, where we aim to develop competitive and recreational shooting activities to be environmentally friendly, high-quality, cost-effective and safe with our innovative technology. Ecoaims Oy works directly with hobbyists, competitors, coaches and other professionals in the sport to create new, exciting experiences in shooting sports. We are involved in implementing international competition events up to the Olympic level.
SALES ASSISTANT
A versatile job description in an international business environment – where you won't get bored!
You play an important role in our sales team, and your tasks include a variety of sales support tasks and taking care of the order-delivery process.
Processing customer orders, invoicing and communication
Transport arrangements
Making offers
Customer relationship management
Responding to customer inquiries, and handling customer feedback
Other daily office tasks
Our products are delivered to over 60 countries, so you will be working with many different cultures and you have an excellent opportunity to utilize your language skills.
The prerequisites for success in the task and to quickly get into your upcoming tasks are the following characteristics.
Self-initiative, responsible and systematic
Good communication, team, and organization skills
Positive, motivated and result-oriented
Active and positive customer service
You enjoy office work
Previous experience in similar tasks is an advantage. The basis for performing the task is practical experience, good written and oral communication in both Finnish and English. Please also mention your other language skills in your application. We use the Lemonsoft ERP system and the usual MS Office programs.
WE OFFER YOU
The product range of the market leader, modern workspaces and tools. We take care of our multi-skilled team by training and offering comprehensive occupational health care. We will present our other staff benefits during the interview. In our work community, each employee has an important role in achieving common goals. Your job description will be versatile and we will warmly welcome you as part of our team!
Application period until 5.12.2023. We will process applications in the order they arrive during the application process.
Send your CV and application by email to:

More information about the task is also given by phone.